André the Giant (real name André René Roussimoff; 1946-1993) was a French-born professional wrestler who stood 7'4" and occasionally appeared in film and TV productions that took advantage of his size.
He is best known outside the wrestling world for being the first actor to play Bigfoot in The Six Million Dollar Man - it was one of his first acting parts - and for his later role in the film The Princess Bride. He continued to wrestle until the early 1990s. He died in 1993.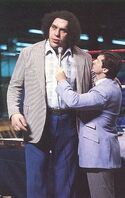 In 2004, a scene from André's Bigfoot episode was recreated for the telefilm Behind the Camera: The Unauthorized Story of 'Charlie's Angels', with Ben Browder playing Lee Majors and Canadian actor John DeSantis as "Bigfoot". Likely due to licensing, DeSantis is not credited with playing André the Giant, just Bigfoot.
Vital statistics
Height: 7'4"
Weight: 380-520 pounds (varied his entire career)
Trivia
Months before his first appearance as Bigfoot, a poster showing Andre the Giant is clearly visible in the episode "Look Alike".
Competed in six WrestleManias, during which he defeated Big John Studd in a special body-slam match, won a 20 man Battle Royal and head lined with Hulk Hogan.
Performed for a crowd of 90,000 people at the Pontiac Silver Dome for WrestleMania III.
Won Pro Wrestling Illustrated Achievement Awards for Match of the Year in 1981 and 1988, and Most Popular Wrestler in 1977 and 1982.
Held titles in the International Wrestling Alliance, National Wrestling Alliance and World Wrestling Federation.
Was featured in Sports Illustrated on December 21, 1981.
First wrestler inducted into the WWF's Hall of Fame in 1993.
One of the first wrestlers inducted into the Professional Wrestling Hall of Fame in Schenectady, New York.
Was the subject of a notorious sticker campaign in the late 1980s early 90s with André's face and the word "OBEY," at one time the image was common in cities throughout the United States.
Community content is available under
CC-BY-SA
unless otherwise noted.