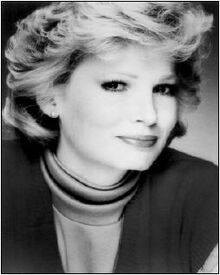 Biography
Christine Belford (maiden name, Riley), was born January 14, 1949 in Amityville, New York.
From the age of 10 to 15, she lived in the "Amityville Horror house". Her parents had purchased it from the estate of the original owners and resold after living in there for five years. Her Family, the Rileys, sold the house to the DeFeos. Her parent's marriage was destroyed while living in that house. Some say that Christine Belford met Ron DeFeo as a child. The two of them are the most famous and infamous people to ever grow up in Amityville..
Belford is a well known actress in both movies and television in such shows as Beverly Hills 90210, The Incredible Hulk, and the original hit TV series, Battlestar Galatica (1978-79). She is perhaps best known for playeing the daughter of Marcus Welby M.D.
External Links
Community content is available under
CC-BY-SA
unless otherwise noted.