Between The Six Million Dollar Man and The Bionic Woman are a number of episodes in which both Steve Austin and Jaime Sommers appear. These episodes collectively tell the story of the evolving relationship of our two lead characters. They can be divided into several rough categories:
Jaime's Origin Story
Three two-part episodes established the character of Jaime Sommers on The Six Million Dollar Man and launched the spinoff The Bionic Woman:
While the first four episodes are not technically "crossovers," as there was only one show at the time, retroactively they have been regarded as either crossovers or "prequels," and are included as such on the new US DVD release by Universal, due on October 19, 2010.
"Welcome Home, Jaime" is a unique case, as it was slated to be a Six episode and then moved to The Bionic Woman for broadcast. It status may more properly be among the Special Appearances, below.
Special Appearances
Lee Majors and Lindsay Wagner appeared as guests on one another's shows during the first year of concurrent production (Spring 1976). With the exception of The Deadly Missiles, these appearances were generally single-scene cameos.
While this period of informal cross-promotion would not continue beyond "Big Brother," the following year would "go big" instead, providing two crossover epics.
Formal Crossovers
In the second year of concurrent production, there were two multipart episodes that spanned the two shows in their initial broadcasts. These are the "true" crossovers, with Six launching one story, Woman the other, switching to the opposite show and opposite lead for Part II, and in the case of "Kill Oscar," returning to Woman for the finish.
After the 76-77 Season, The Bionic Woman moved to NBC. Jaime and Steve would not appear onscreen together again until 1987.
The Sequel Telefilms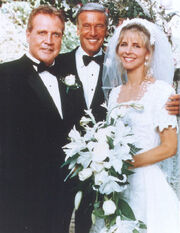 While not episodes of either show, The Sequel Telefilms provide closure to the narrative of Steve and Jaime's relationship.
Conversational Crossovers
In various episodes, events crossed in which either Steve or Jaime were mentioned or involved in the story of the other's show, but did not appear.
Syndication Changes
The crossovers created an interdependency between the shows on broadcast that was problematic for syndication. Two episodes were moved from one show to the other for syndication. In each case, this was done to keep multipart episodes together for sale as a package. Some minor changes were associated with this move: the title sequence was replaced with that of the episode's new home, other adjustments varied. As a group, therefore, the crossovers were particularly effected by the raft of changes that came in with syndication.
Community content is available under
CC-BY-SA
unless otherwise noted.