Character played by: Mike Farrell
David Tate
-
Appearances
SMDM 
The Pioneers
BW 
none
Reunion 
none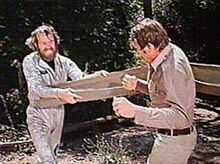 David Tate is one of a pair of scientists who developed cryogenic suspension technology for the OSI. Oscar Goldman and Rudy Wells secretly launch Tate and fellow scientist Nicole Simmons into orbit to test the technology. A series of mishaps cause the craft to land early, with Tate injected with an overdose of his revival drug. Steve Austin is kept in the dark while being transported to the area, then assists Dr. Wells in tracking down Tate, who is terrorizing the countryside, his strength amplified to Bionic levels by the drugs.
Community content is available under
CC-BY-SA
unless otherwise noted.