During the run of The Six Million Dollar Man, and The Bionic Woman an American company called Fundimensions (also known as MPC) issued a series of snap-together (no glue required) model kits featuring Steve Austin and Jaime Sommers. In the UK, the kits were released by Denys Fisher.In Australia the kits were released by Toltoys with artwork identical to the US release.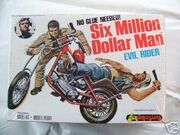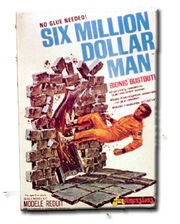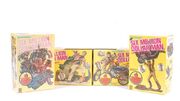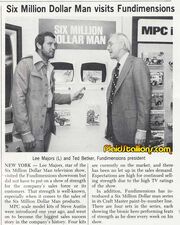 At least four kits, which formed diorama scenes, were issued for The Six Million Dollar Man (note: the article "The" is left off the branding for these releases):
"Bionic Bustout" which depicts Steve, outfitted in a NASA uniform, diving horizontally against a prison door (possibly inspired by a similar scene in the pilot film)
"Fight for Survival," depicting Austin throwing a large gorilla (possibly inspired by Bigfoot).
"Evil Rider," depicting Austin stopping a renegade motorcyclist.
"Jaws of Doom," depicting Austin battling a crocodile
The US packaging for each kit included a brief comic strip story centered on the scene featured. The UK packaging used different artwork and designs. Coincidentally, two of the dioramas resemble cover illustratations later used for the Six Million Dollar Man comic book: The Jaws of Doom scenario resembles the cover to Issue 4, while the cover of Issue 5 also shows Austin throwing a man and his motorbike as seen in the model Evil Rider.
The pieces for each model kit were unpainted, and since they snapped together rather than requiring glue, this allowed the Austin models to include removeable panels that reveals bionic circuits in his arm and legs.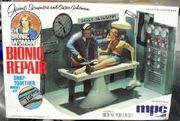 The Bionic Woman, meanwhile, was the subject of a kit entitled "Bionic Repair". The model depicts Jaime in a lab setting, with Oscar Goldman (rather than Rudy Wells) conducting repair work on her bionic legs. A major difference in the packaging compared to the Six Million Dollar Man models is the use of a specialized Bionic Woman logo very similar in design to that used for the Kenner line of action figures but with a different image of Jaime than that used in the toys. Bionic Repair is also the only model kit to feature a photograph of the finished model on the box rather than an artist's rendering.