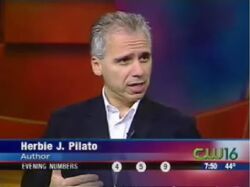 Herbie J Pilato is a writer, actor, TV producer and director, and singer/songwriter who was born and raised in Rochester, New York (on Erie Street across from where now stands Frontier Field). He attended St. Peter and Paul's, St. Augustine's and St. Anthony of Padua's elementary schools, graduated from Aquinas Institute of Rochester, attained a B.A. in Theatre Arts from Nazareth College of Rochester, studied TV & Film at UCLA, and served his Internship in Public Relations at NBC Television in Burbank, California.
Herbie J is the author of a number of media tie-in books, the Bionic Book and Life Story – The Book Of Life Goes On (both of which were published by BearManor Media in 2007), NBC & ME: My Life As A Page In A Book (BearManor Media, 2008), Bewitched Forever (Tapestry, 2005), The Bewitched Book (Dell, 1992) The Kung Fu Book of Wisdom (Tuttle, 1995) and The Kung Fu Book of Caine (Tuttle, 1993).
Herbie J has served as an Editor/Writer for various websites (such as TV-Now.com, UPNTV.com, PAX-TV.com and MediaVillage.com), contributed to a diverse list of magazines (like Starlog, Sci-Fi Entertainment, Retro Vision, Classic TV, Electron House, Challenge, and Remember), and has made hundreds of radio and TV show appearances (including The E! True Hollywood Story, A&E's Biography, and Entertainment Tonight ).
As an actor, Herbie J has appeared on TV soaps such as General Hospital and The Bold and the Beautiful. Some of the TV programs he's produced, include Bravo's hit five-part series, The 100 Greatest TV Characters and TLC's Behind the Fame specials. He's also served as a consultant on Nora Ephron's Bewitched feature film and on the first-season TV-DVD releases of Bewitched, Kung Fu and CHiPs. Herbie J recently toured with Nik & the Nice Guys ("America's #1 Party Band") as Frankie Valli in the group's Rock Icon Tribute Artist Show, and in 2008, he released his first music CD (entitled, Two).
Most recently, Herbie J served as one of the Consultants and on-screen Cultural Commentators for the special Five-Season Box DVD release of "The Six Million Dollar Man."
In the Summer of 2010, Herbie J founded The Classic TV Preservation Society, a nonprofit organization (for which he also serves as Executive Director) that seeks to close the gap between popular culture and education. The Board of DIrectors includes actresses Lydia Cornell ("Too Close For Comfort") and Kathy Garver ("Family Affair"), producers Danny Gold and Matthew Asner, international performance artist and peace advocate Thomas Warfield, among others.
Herbie J is also the Creative Director for Erie Street Entertainment, a production company which has several books, TV shows and feature films in development.
For more information about the Classic TV Preservation Society, see this link: www.ClassicTVPS.blogspot.com or email ClassicTVPS@gmail.com.
For more information about Erie Street Entertainment, see this link: www.ErieStreetEntertainment.blogspot.com or email hjpilato@yahoo.com.
Community content is available under
CC-BY-SA
unless otherwise noted.