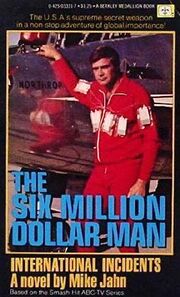 International Incidents was a 1977 general adaptation of several episodes of The Six Million Dollar Man. It was written by prolific Six Million Dollar Man adapter, Mike Jahn. The novel combines the storylines of the following episodes: "Double Trouble", "The Deadly Test" and "Love Song for Tanya".
As a Berkley Book, it was not part of the numbered series of Warner Six Million Dollar Man books. However, taking into account all books written about Steve Austin — regardless of publisher — it was the sixth and final adaptation and the tenth and final book, including the Caidin Cyborg series. Its lack of focus on a single storyline made it somewhat similar to The Rescue of Athena One, in that it intertwined elements from more than one story. Nevertheless, it was unique in being the only non-Caidin work not to specifically cite a scriptwriter as the author of the original material.
As with his other books, Jahn borrows elements from Martin Caidin's original Cyborg series continuity. For example, Austin's left arm is the bionic one, plus he is eqiupped with a poison CO2 dart gun in his bionic arm (a weapon not included in the TV version). The most noticable change is the conclusion of the segment based upon "Love Song for Tanya". In the episode, the villain is apprehended; in the novelization, Austin kills the man with his dart gun.