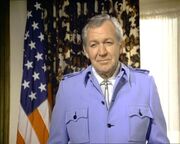 J.T. Connors, a wealthy and powerful industrialist, is head of Connors Aerospace Industries - a company which builds missiles for the U.S. Air Force. His second-in-command is Warren Rayker - a genius at micro-electronics. Connors owns a vast private estate near a 300 square mile area called M.E.W.S. (Military Early Warning Station).
Proud Texan heritage.
War Veteran. Received a flag from General Patton.
His son, J.T. Connors Jr. was a Vietnam veteran, decorated 8 times and killed in the line of duty after his aircraft was fired on while waiting on the runway for take-off orders. J.T. Connors Sr. is particularly bitter about his son's death, as his advice to the Air Force that the airfield was vulnerable to attack was ignored.
Right-wing political beliefs.
Has a large collection of vintage railway carriages.
Enjoys wearing polyester leisure suits (periwinkle blue a favorite!)
Has known Jaime Sommers since she was a little kid.
Connors was Jaime Sommers' first sponsor when she turned tennis pro. She considers him one of her oldest and dearest friends.
Quotes
(Responding to Jaime's statement that he is politically to the right of Attila the Hun): Yeah, I don't even put out my arm when I make a left hand turn.
Appearances
Community content is available under
CC-BY-SA
unless otherwise noted.