James "Jim" Elgin is the step-father of Steve Austin, and the legal guardian of Jaime Sommers.
Jim began dating Helen Elgin when her son Steve Austin was still a young boy. Tiring of spending his Saturday nights alone, young Steve suggested that Jim and his Mother get married. This had always amused Jim, who continued to have a close father-son relationship with Steve. The Elgins became the legal guardians of Jaime Sommers upon the death of her parents, James and Ann Sommers, in an auto accident when Jaime was just sixteen years old.
When Steve bought the Marsden Ranch, Jim was happy to have his step-son back home in Ojai. He was always there to offer fatherly advice and wisdom, and even warned Steve of Helen's plans to play matchmaker for her son and Jaime Sommers. After Steve and Jaime became engaged, Jim was asked to walk the bride down the aisle. He accepted after ensuring that it would be legal for the step-father of the groom to give the bride away. Along with Helen, Jim was made aware of his step-son's bionic nature (and that of Jaime) soon after Jaime's surgery.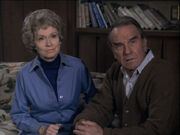 Following Jaime's resurrection, Steve took her to Ojai in hopes of sparking her repressed memories. One of the first people informed of her return was Jim Elgin, who also served as a sounding board for Steve as he expressed his frustration over Jaime's loss of memory and her subsequent attraction to Michael Marchetti. (The Return of the Bionic Woman (Part II)).
Upon her recovery from surgery in Colorado Springs, Jaime called on Jim, an accomplished private pilot who owned his own plane, bearing the registration NIWZ, to fly her back to Ojai, California where she intended to re-establish her roots.
Jim Elgin is believed to have died sometime between the events of "The Bionic Dog (Part II)" and "Date With Danger (Part II)."
Jim died never knowning that Steve has a son named Michael Austin.
Community content is available under
CC-BY-SA
unless otherwise noted.