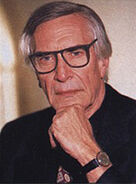 Martin Landau is an Oscar-winning actor who played terrorist leader Lyle Stenning in the 1987 reunion telefilm Return of the Six Million Dollar Man and the Bionic Woman. After turning down the role of Mr. Spock in the original Star Trek, Landau rose to fame playing master of disguise Rollin Hand in the long-running spy series, Mission: Impossible, which co-starred his wife, Barbara Bain. Landau and Bain left the series in 1969 and later worked together on several projects, most notably the British science-fiction series Space: 1999 in the mid-1970s, in which he played Moonbase Alpha Commander John Koenig.
Landau's appearance in Return of the Six Million Dollar Man and the Bionic Woman came near the end of an extended period in which he appeared in mostly unsuccessful films and in TV guest roles. The next year, 1988, saw the start of a career revival for Landau beginning with an accalimed performance in Tucker: The Man and His Dream, which was followed by the Woody Allen film Crimes and Misdemeanors. His comeback reached its height when Landau won the Best Supporting Actor Oscar for playing Bela Lugosi in the 1994 film Ed Wood.
Landau continues to act in film and television, and according to the Internet Movie Database appears in no less than six films scheduled for release in 2008 and 2009.
External link
Community content is available under
CC-BY-SA
unless otherwise noted.