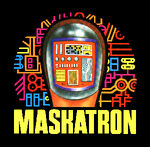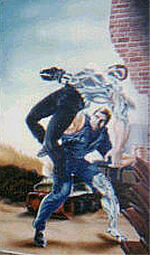 Maskatron was one of the many Six Million Dollar Man and Bionic Woman action figures and toys tie-ins, manufactured by the Kenner toy company.
Maskatron bears some similarities to Dr. Dolenz' robots from the episodes "Day of the Robot" and "Return of the Robot Maker". The action figure came equipped with three masks allowing the robot character to be disguised: Steve Austin, Oscar Goldman (who was replaced by a Dolenz robot at one point), and a third unidentified male, although the mask closely resembles the features of John Saxon, the actor who played Major Fred Sloan, the first to be replaced by an android duplicate. The Austin mask is the only representation of Austin in the Kenner toy line to show both of his eyes (as normally the left eye is replaced with a viewing lens).
A key feature with the action figure was the use of triggers which, when struck (presumably during "battles" with the Steve Austin action figure) caused parts of Maskatron's body to fly off.
Later in the Kenner line, a female android doll, based upon the Fembots of the television series, was introduced. The Fembot doll shared some design similarities with Maskatron in terms of the "face", and also in the fact it came with masks to disguise it. The Fembot doll, however, unlike her male counterpart, does not contain any triggers that make it fall apart.
Comic Book Versions
The Dynamite Comics reimagining, The Bionic Man introduces a version of Maskatron -- identified by that name -- in issue #16, which reveals that a Maskatron was responsible for the accident that resulted in Jaime Sommers becoming bionic.
Maskatron is introduced into the the television continuity with issue #1 of [[The Six Million Dollar Man (Dynamite)|The Six Million Dollar Man: Season Six. In the comic, it is revealed that Maskatron was developed by Oliver Spencer as a replacement/improvement upon Steve Austin and bionics, and a Maskatron is disguised as Steve to prove his point, before the android ultimately goes rogue.