You may also be looking for the episode, Max
Maximillian — often called simply "Max" — is a bionic German Shepherd dog. He is a recurring character from the third and final (1978) season of The Bionic Woman. Max was donated for laboratory use at the age of four months, and was critically injured in a chemical lab fire. At a time when Dr. Rudy Wells needed to test his bionic prototype, Max was the strong-willed animal that the OSI was looking for. The bionic implantation procedure cost one million dollars. Max had four bionic legs and a bionic jaw. He could run 90 mph and bite through solid steel.  
Max was confined to the West Coast Lab Kennel for observation for four years because he appeared to be experiencing a new kind of bionic rejection that comes with age. Max was scheduled for autopsy to investigate the possible health threat to the OSI's human cyborgs. However, Jaime Sommers discovered the problem was actually depression brought on by the prolonged confinement. Due to the lab fire, Max also suffered from severe pyrophobia that caused him to lash out at anyone handling any kind of flame. Eventually, Jaime was able to help Max overcome his depression, conquer his fear of fire, and convince Oscar Goldman of Max's mental stability. Jaime adopted Max after their first mission together.
Even while suffering from pyrophobia, Max still performed heroic deeds. Most notably, upon seeing a car rolling down a hill with a child inside, Max broke out of Jaime's car, ran after the car rolling down the hill, seized its rear bumper in his jaws, and brought the car to a stop with his bionic strength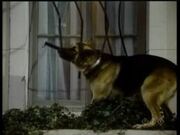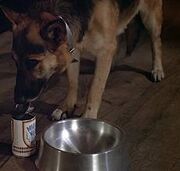 . Max also was unusually intelligent. He was able to feed himself by biting open a can of dog food with his bionic jaw and pouring it into his food bowl. In one episode Max
indicated to Jaime that he wanted her to make him spaghetti by bringing her a cookbook and opening it to the page with the recipe for spaghetti.
Max's fate after the end of the series is never revealed. However, eight years after his introduction, Rudy Wells refers to Max when talking about bionic breakthroughs with Steve Austin in Return of the Six Million Dollar Man and the Bionic Woman, saying, "After Max, I went back to the drawing board." Since he is not present, Max presumably died before the time of the film (1987). If he were still alive, Max would have been 17 years old, an unusually long life for a German Shepherd.
External Link
Community content is available under
CC-BY-SA
unless otherwise noted.