Manufactured by Kenner
1976 version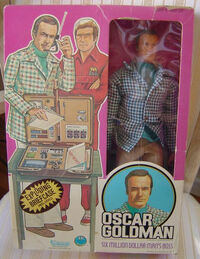 The front of the box
Acccessories
<ask></ask>
1977 version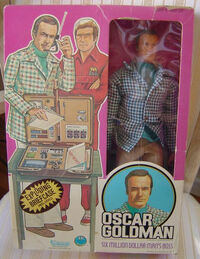 '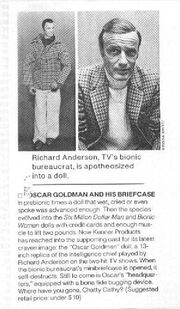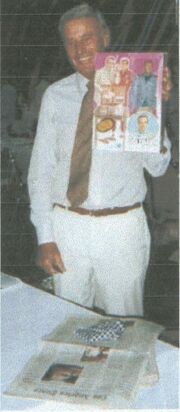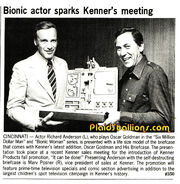 The Oscar Goldman doll was one of several large-size action figures relased by Kenner Toys in the late 1970s to tie-in with both The Six Million Dollar Man and The Bionic Woman. Unlike the dolls based upon Steve Austin and Jaime Sommers, 12-inch Oscar Goldman doll came with no special features on its own, and was dressed in a sports jacket and pants indicative of the late-1970s style worn by the character on TV. The doll came packaged with a briefcase containing several items; if the briefcase was opened incorrectly, however, the briefcase self-destructed, bouncing into the air and the interior changing to appear as if it had been destroyed (though it could easily be reset). The exploding briefcase is reminiscent of a similar gadget utilized by James Bond in the novel and film From Russia with Love, but was never featured on either of the TV series in which Goldman appeared.

Publicity
Thursday, March 24, 1977:
CINCINNATI (AP) - First, Kenner sold millions of the Six Million Dollar Man. Then, there was a scramble for the Bionic Woman. Now, the nation's second-leading toy manufacturer is about to unleash its newest bionic spinoff - the Oscar Goldman doll.
Goldman is the character on both television series who watches over the two superheroes and worries about whether their wires are shorting or their bionic parts need replacing. "He's a strong secondary character in both shows," a Kenner official said, "and is unusual in getting that prime time exposure twice a week with the success we've had with the Man and the Woman, it was logical for us to bring out an Oscar Goldman figure."
"The Man" Steve Austin and "The Woman," the manufacturer's pet name for Jaime Sommers, are proof of the power of television over the toy industry.
Kenner officials have long acknowledged that shows such as The Six Million Dollar Man and The Bionic Woman are highly marketable.
The Steve Austin doll sold more than two million copies in 1976, passing the record of its 1975 introductory year. The Jaime Sommers doll sold 1.5 million copies by the end of the past Christmas rush.
The company executive said the Oscar Goldman doll was a hit among Kenner's new 1977 lines at the Toy Fair held last month in New York.