-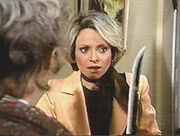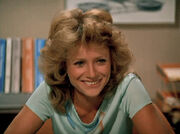 Margaret "Peggy" Callahan — commonly referred to as just Callahan — is the personal secretary to Oscar Goldman. She is in her late 20s, and holds a masters degree in political science. Petite in stature with a wide engaging smile and raspy voice, Peggy is often eager to please her superiors and colleagues to make a good impression. Perky and capable while a bit on the nervous side, she is able to juggle multiple secretarial duties at once.
Background
OSI Career
In 1975, Callahan began working as secretary for the OSI, replacing Miss Johnson after her three month extension expired. (Steve Austin, Fugitive) Her original OSI security clearance was Level 3. However, when a gunshot wound damaged the power cable and circuitry in Steve Austin's bionic leg, she was asked to gather electronic components to assist repairs when Dr. Rudy Wells was unavailable. As a result of this top secret information being revealed, Callahan's OSI security clearance was upgraded to Level 6.
Family
Peggy Callahan is a third generation native from Burlington, Vermont, where her mother and father still reside. She maintains an especially close relationship with her mother who frequently keeps in touch by long-distance telephone. Self-admittedly, Callahan possesses "caution and conservativeness" in her genes. Her family apparently expressed concern about her moving to a large city, and sent care packages including multiple door locks for her Washington apartment (#31). (Steve Austin, Fugitive) She later moved to apartment #401, presumably in another building, where she was assaulted by her Fembot double. (Kill Oscar)
Colleagues and Friends
Quotes
Callahan: I never thought when I got my Master's degree, just a few months ago, in Political Science, that I'd actually be living political science myself. (Steve Austin, Fugitive)
Community content is available under
CC-BY-SA
unless otherwise noted.