Richard Anderson played Oscar Goldman in The Six Million Dollar Man and The Bionic Woman. A longtime character actor whose career dates back to the late 1940s, Anderson appeared in a number of well-known films including Forbidden Planet but found his niche as a television actor in the 1960s, appearing in numerous shows such as Death Valley Days and Mission: Impossible. He also had a recurring role on Perry Mason and played several different characters on The Fugitive. He also guest starred several times (again playing different roles) on Lee Majors' first TV series, The Big Valley.
Anderson's best-known work remains the two bionic series, and Anderson not only reprised the role of Oscar for the later reunion films, he produced two of them as well, and his name was often mentioned in media reports of a potential big-screen remake of The Six Million Dollar Man. In the 1990s, he provided narration for the series Kung Fu: The Legend Continues. Although the Internet Movie Database lists his most recent screen acting credits being in 1998, Anderson is still active and often attends fan conventions. He wrote the foreword to The Bionic Book by Herbie J. Pilato, which was published in 2007 and, along with his co-stars, participated in interviews recorded for the 2010-11 DVD releases of The Six Million Dollar Man and The Bionic Woman.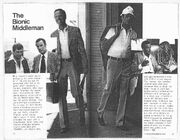 Magazine Profile
Richard's life and career were profiled in the March-April 2005 edition of Monmouth Health & Life, a periodical circulated in the town of his birth--Long Branch, New Jersey.
Community content is available under
CC-BY-SA
unless otherwise noted.