Summary
Steve has met all physical requirements and is in training with a gang planning to heist a thirty-million-dollar U.S. missile as it is being transported from San Diego to a Nevada testing site under the supervision of the OSI. But Steve is being watched carefully and cannot warn Goldman that the officer in charge of security is actually an impersonator. Steve's only contact is with a spunky yet flaky OSI secretary named Callahan, who has found a way to stay near the mercenary gang.
Deconstructed
Quotes
Trivia
Character
This episode marks the last appearance of Peggy Callahan on The Six Million Dollar Man series. The character of Callahan continues as a semi-regular character on the following third season of The Bionic Woman, which aired on a different network from The Six Million Dollar Man. Unlike Oscar Goldman and Rudy Wells, however, no cross-network appearances were allowed for Callahan.
Gaffes
Nicolini's bad knee changes from right to left and back to right again.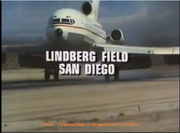 Lindbergh Field is misspelled early in the episode.
Gallery
Community content is available under
CC-BY-SA
unless otherwise noted.