Jaime discovers the secret existence of the world's first bionic canine, and has just five days to save him from certain death.
Summary
Quotes
(Jaime is doing arm curls with a barbell)
Jaime: Had enough?
Rudy: Enough? You just started.
Jaime: How much longer?
Rudy: Forty seconds. I need at least a minute to run a cardiovascular check.
Jaime: In a minute, I could be dead, Rudy. Why don't I do it with my bionic arm? Or I could jog in place for you.
Rudy: Jog in place.
Jaime: Yeah.
Rudy: Sure. Your atomic-powered bionics don't exactly strain your heart. Now just keep going. (watches stopwatch) Okay, that's it.
Jaime: (drops the barbell wearily) Hallelujah.
---
Rudy: Lab animals are a fact of life in research science, Jaime. It's thankless; it's sometimes inhumane, but necessary.
Oscar: Max was critically injured in a chemical lab fire six years ago. A tragic story, but a happy ending. Rudy was testing his bionic prototype, and Max was just the strong-willed animal we were looking for.
Jaime: (after watching film of Max jumping) Oh, boy...
Rudy: It's a simple case of being in the right place at the right time.
Jaime: Just like me.
Oscar: Not quite, Babe. Max only cost a million.
Jaime: Yes, I know. Max-a-millian? (rolls her eyes)
Oscar: Was I that obvious? I really thought it was a good idea.
---
Jaime: What's he doing?
Oscar: Watch.
(Max tears out a piece of a tire with his jaw)
Jaime: Oh, my... a bionic jaw?
Rudy: Well, we figured that was one piece of equipment you'd never need.
Jaime: Hey! Dr. Wells...
Rudy: But every other bionic part, except Steve's eye and your ear, was tested on Max first. In a way, you owe him your life.
---
Rudy: What gives you the right, the unmitigated gall to jeopardize a top secret project like that? Do you know what could have happened?
Jaime: He's alright, I can prove it.
Rudy: How? Look at him: he can't even raise his head, let alone run bionically.
---
Rudy: Are you questioning my judgement?
Oscar: I'm giving you a chance to modify your position, Rudy. To play the grey zone. If there's the slightest doubt...
---
Oscar: Jaime, I should have your head for this. If Rudy didn't think that this dog had a chance, I'd have the state police after you.
---
Jaime: Dear Oscar, I know that what I'm doing may seem foolish to you. I'm sorry, and I hope that someday, you'll understand. Max and I are going someplace safe, away from you and away from people. If Rudy is right and Max is rejecting his bionics, then it's only right that he has me to help him through it. He deserves a chance, Oscar. I hope someone's there to do the same thing for me when it's my turn. Give Jim and Helen my love and tell them I'll call soon. I'll be okay. We'll both be okay. I know it. Love, Jaime.
Trivia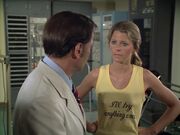 Nitpicks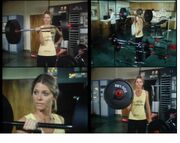 During the scene in which Jaime is lifting the barbell and Rudy is writing notes, a section is shown in reverse image. Jaime and the weights are on the opposite side of the room, and the part in Rudy's hair is on the opposite side of his head.
Video Links
Gallery
Community content is available under
CC-BY-SA
unless otherwise noted.