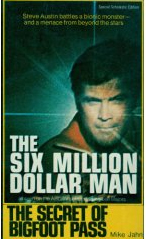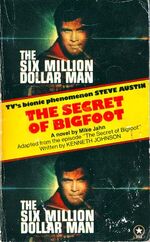 The Secret of Bigfoot Pass was a Mike Jahn adaptation of The Secret of Bigfoot by Kenneth Johnson. Its original edition was published by Berkley in 1976. Thus, it was not a part of the original crop of numbered Warner Paperback Library Six Million Dollar Man books. Chronologically, however, it was the fifth adaptation of a televised adventure published.
In the UK, the book was printed under the title of the episode, The Secret of Bigfoot.
The ending of the novelization is substantially different from the televised episode. Jahn's various episode novelizations attemped to fit the stories within Martin Caidin's continuity from the original Cyborg novels. As such, Jahn frequently made reference to bionic replacements not mentioned in the TV series. In the epilogue of this novel, the aliens attempt to erase Austin's memory of his encounter with them, but while this is successful in the televised episode (requiring Austin's memories to be restored in the later sequel episode), the novelization ends with Austin telling the aliens that the steel plate used to replace his skull (per Caidin's version of the character) renders such memory-erasing efforts useless. This creates a major continuity disconnect with the later televised episode "The Return of Bigfoot" in which Austin's deleted memories need to be addressed.
Trivia
Events from The Rescue of Athena One and Straight On 'Til Morning was referenced in this adaptation.
As there is no location called "Bigfoot Pass" in either the book nor the original episode, it's unclear why the title was so modified for this novelisation. As noted, the UK version dispenses with this and just uses the TV episode title.