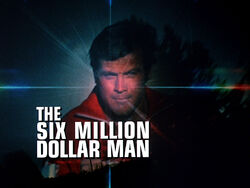 The Six Million Dollar Man is an American television series about a cyborg working for the OSI starring Lee Majors as Steve Austin. The show was based on the novel Cyborg by Martin Caidin. It was initially aired on the ABC network for five seasons between 1974 to 1978, following three television pilot movies in 1973. The series spawned a spinoff, The Bionic Woman, in 1976 and was also the subject of three made-for-television reunion films in the 1980s and 90s.
The syndicated version of the series offers an altered selection of episodes than original broadcast. The episode "Kill Oscar (Part II)" was rebranded as an episode of The Bionic Woman for the syndicated version of the spinoff in order to preserve the story arcs for that series, whereas the Bionic Woman episode, "The Return of Bigfoot (Part II)", became a Six Million Dollar Man episode. In addition, the three 1973 telemovies that launched the series were each re-edited into two-part episodes (utilizing extensive addition of stock footage and footage from later episodes) which increased the syndicated episode count.
Home video release
Main Article: Home Video Releases
Although full seasons of the series have been released to home video in Europe, in North America complicated licensing issues prevented this series from being released to home video, in either VHS or DVD formats, for many years. A few exceptions occurred in the late 1970s, when several episodes were released in the experimental DiscoVision format (an early-generation laser disc/DVD forerunner), and in the mid 1980s the original Bionic Woman two-parter was released to VHS. Similarly, no US Home Video release occurred for any of the reunion telefilms.
All this changed in the summer of 2010 with the surprise announcement by Universal Studios that the rights issues had finally been ironed out. As a result, in short order Time Life announced it would release the complete Six Million Dollar Man series on DVD -- including the reunion films - on Nov. 23, 2010.
However, the show's DVD debut actually occurred on Oct. 19, 2010 when the first season of The Bionic Woman was released to DVD in North America by Universal Home Video. As a bonus, the 4-disc set included the five episodes of The Six Million Dollar Man that had introduced Jamie Sommers.
See also
Community content is available under
CC-BY-SA
unless otherwise noted.