There has been no release, comprehensive or otherwise, of the soundtrack for The Six Million Dollar Man
Partial Releases
While there have been no releases of the music to the show, the show intro, which carries Oliver Nelson's theme in its later iterations, has been included in several TV Theme compilations, as well as the soundtrack to The Tao of Steve.
Oliver Nelson's Related Releases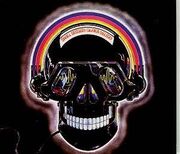 Main Theme
The Oliver Nelson theme has been covered by various artists over the years, and while such releases normally have only tangental relevance here, Nelson himself collaborated, arranged and conducted the Richard "Groove" Holmes release, "Theme from Six Million Dollar Man (sic) and Other Selections."
This release, while showcasing the keyboard talents of Holmes, includes an extended rendition of The Six Million Dollar Man theme. As this was recorded in 1975, with Nelson arranging and conducting with several of his usual band members, this is a reasonably close approximation of the theme as it was used in the show (albeit with an extended jazz organ solo in the middle).
Never released on Audio CD, the original Flying Dutchman release has been reissued on vinyl in recent years.
Baja Bossa
A theme developed for the episode "The Peeping Blonde," entitled "Baja Bossa," was re-recorded by Nelson and released on the 1975 album "Skull Session." While the CD of this album is rare, this track has since appeared on several compilations.
Three Seconds
Nelson used this track from his 1960 album "Screamin' the Blues" as the basis for the incidental music for "Dr. Wells is Missing."
Community content is available under
CC-BY-SA
unless otherwise noted.