Ventura Air Force Base is a United States Air Force airbase in California, likely located in Ventura County. Ojai is nearby.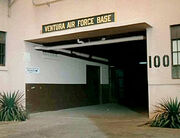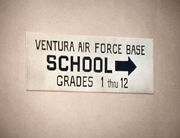 School
A school is located on the base for the children of the men and women stationed there. Jaime Sommers officially taught 7th-9th grades there, although some of her students seemed obviously younger. As was typical of many schools of the era, she appeared to have her own particular classroom at the base.
Among the featured students of the school were: Andrew, John "Paco" Little Bear, Teddy, Gwen, Joey, Mark, Caroline, Jody Warner, Terry, Arty, Katie, and Pam.
Personnel
Aside from Jaime, the school also employed her fellow teacher, Karen Stone. Additionally, the base was known to be the primary duty station of Deputy Base Commander Lt. Col. Tom Hollaway, Maj. Don Mills, Sgt. Don Woods, Cpt. Anders, an unnamed communications officer, and an unnamed guard.
At various points, several officers were temporarily assigned to Ventura, including: Steve Austin, Jack Starkey, General Fuller and Captain Phillips.
A few people were shown to provide privately contracted or voluntary assistance to the school or base proper. They included Harry Anderson, Thomas Bearclaw, John Mallory, Briggs and Henderson.
Deconstructed
Community content is available under
CC-BY-SA
unless otherwise noted.