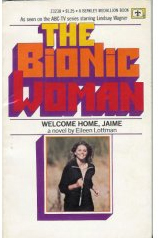 Welcome Home, Jaime by Eileen Lottman, is a novelization based upon the initial episodes of The Six Million Dollar Man and The Bionic Woman that introduced the character of Jaime Sommers. The book itself only credits that it is based upon the Bionic Woman episodes "Welcome Home, Jaime" and "Welcome Home, Jaime (Part II)", however the opening chapters of the book also incorporate plot elements from the Six Million Dollar Man episodes "The Bionic Woman", "The Bionic Woman (Part II)", "The Return of the Bionic Woman" and "The Return of the Bionic Woman (Part II)". For years it was thought Part 1 of "Welcome Home, Jaime" also aired on Six Million Dollar Man but in 2010 it was confirmed that it aired as a Bionic Woman episode.
It is the first of two novels released to tie in with The Bionic Woman spinoff series; the other, also by Lottman, is entitled Extracurricular Activities. Lottman is one of several writers who attributes the name "Office of Strategic Intelligence" to the OSI, contradicting other meanings for the acronym given on television.
The UK edition of this book is retitled Double Identity and is credited to "Maud Willis", one of Lottman's pseudonyms. Curiously, the British edition refers to Oscar Goldman as 'Oscar Gold', both in the text and cover blurb.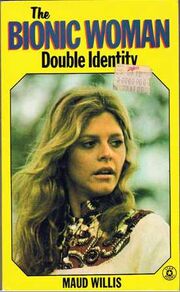 Community content is available under
CC-BY-SA
unless otherwise noted.