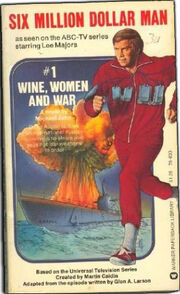 Wine, Women and War was the first novel in the numbered Six Million Dollar Man range of paperbacks, published by Warner Brothers. Like others in the line, it was adapted by Mike Jahn. It contained the novelization of the Glen A. Larson-penned telemovie, Wine, Women and War.
Although based upon the telemovie, the novel contains several marked differences as Jahn incorporates elements of Martin Caidin's continuity from the Cyborg series of books. For example, Steve Austin is equipped with the poison CO2 dart gun in his bionic arm, which he uses to kill two Russian guards (both cold-bloodedly) in a scene not taken from the televised film. (The piece of weaponry also appears in other novelizations such as International Incidents but was omitted from the television version of the character.) Jahn also has Austin set a charge to destroy Findletter's yacht at the beginning (in the film a guard with a machine gun sets off the explosion), and also has him sink Kaslov's boat after escaping from it. Another element taken from Caidin is that Austin's bionic arm is his left arm in the novel, and one of his legs is described as having a storage compartment.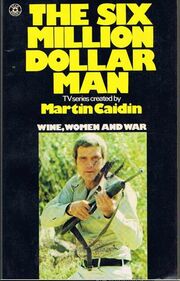 The UK edition of the novel is unusual as the main credit on the front cover is given to Martin Caidin, and not the actual writer of the novel, Mike Jahn (although he is credited on the spine, back cover and inside). It is also one of the few officially licensed SMDM products that explicitly credits Caidin as the creator of the series (most other products simply indicate that the series was based upon the novel Cyborg).